Photo Recap: Aaron Mermelstein Wins the WPT Borgata Winter Poker Open
Level 37: 250,000-500,000, 75,000 ante

On Thursday, Aaron Mermelstein won an impressive last-longer contest, outlasting 118 other entrants in the Skrill Last-Longer to win back the value of his buy-in — $3,500.

On Friday, Mermelstein won a much bigger last-longer, outlasting a field of 989 players in the WPT Borgata Winter Poker Open to win $712,305, and have his name literally engraved into history on the WPT Champions Cup.

At a final table with notable East Coast pros, a past WPT champion, and two players making their third WPT Final Table appearances, it was the relatively unknown 27-year-old from Philadelphia who triumphed.

It took more than nine hours, 181 hands, 17 lead changes, and four different chipleaders, but the only one who survived it all was Aaron Mermelstein.

Here's a look back at how it happened:




At the start of the day, all six finalists had at least 20 big blinds and a legitimate shot at winning the title.

Seat 1. Esther Taylor-Brady - 4,020,000 (40 bb)
Seat 2. Aaron Mermelstein - 7,140,000 (72 bb)
Seat 3. Randy Pfeifer - 1,985,000 (20 bb)
Seat 4. Shawn Cunix - 8,880,000 (89 bb)
Seat 5. Eugene Todd - 5,150,000 (52 bb)
Seat 6. Justin Liberto - 2,500,000 (25 bb)




As always, the show begins with WPT Anchor Lynn Gilmartin, who overlooks the final table from her anchor desk.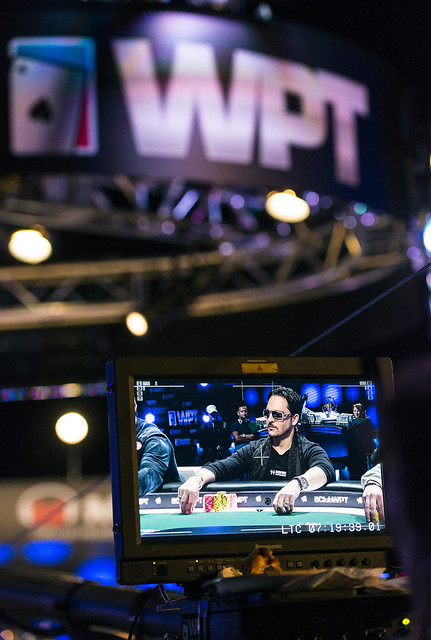 All eyes were on Shawn Cunix, the big story coming into this televised final table as he was trying to become the 21st player in history to win multiple WPT titles. Cunix seemed to have all the momentum on his side, never giving up the chip lead on Day 4, and nearly half the time he had twice as many chips as any other player.




Cunix wasn't the only story at the table, of course. East Coast favorite Esther Taylor-Brady (a.k.a. "E-Tay") was trying to win the first WPT title in her familly — her husband Matt Brady has seven WPT cashes, but never finished higher than seventh place. Taylor-Brady had already guaranteed herself sixth or higher, but she was hoping to become the first woman to win an open WPT title.




Justin Liberto began the final table second-to-last in chips, and he couldn't get much going. In Hand #14, he four-bet all in with K
Q
, but ran into the A
K
of Aaron Mermelstein. Liberto didn't improve, busting in sixth place to earn $140,878.




In Hand #16, Randy Pfeifer (pictured) open-shoved his short-stack with A
K
, and Eugene Todd called from the big blind with K
8
. The best hand held up, and Pfeifer doubled up to a more comfortable 17 big blinds.




The next hand (Hand #17), Randy Pfeifer raised, Eugene Todd (pictured) reraised, and Pfeifer moved all in again. Todd snap-called with J
J
, and he had to think they'd be best hand, making him a favorite to get his chips back.

But Pfeifer turned over K
K
.

The best hand held up again, and Pfeifer doubled up while Todd fell to the bottom of the leaderboard.




In Hand #25, Shawn Cunix check-raised two players after a flop of 10
8
5
to pick up a pot worth 1.6 million. That moved him up over 12 million in chips, and Cunix seemed like he had the same unstoppable momentum as he did the day before.




In Hand #35, Aaron Mermelstein wins a big pot when Shawn Cunix turns a queen-high straight — Mermelstein rivers a full house. It wasn't an all-in situation, but the 5.2 million in the pot was more than any of the other three players had in their stacks — enough to give Mermelstein the chip lead.




Esther Taylor-Brady's day would end in Hand #37, when she shoved the big blind with 9
8
into the K
Q
of Shawn Cunix Cunix. Taylor-Brady paired her eight on the flop, but Cunix paired his king on the turn to win the pot.

Taylor-Brady was eliminated in fifth place, earning $174,118, while Cunix bounced back into the chip lead.




Four-handed play seemed to last forever, with multiple lead changes. It would take more than four hours, 83 hands, and six all-in situations before there was another elimination.




In Hand #68, it was Randy Pfeifer's turn to take the chip lead in a pot against Shawn Cunix (not pictured). They played a pot worth 5.9 million on a board of 9
6
5
7
Q
— Cunix held 6-5 for two pair, but Pfeifer turned over 8-8 to wint he pot with a straight.

Pfeifer had started the day in last place, and now he was chipleader at a televised WPT Final Table with four players remaining.




Obviously, the best seat in the WPT Arena is at the final table. But the second-best seat might be at the Monster Bar, where fans can sit right next to the stage with the Royal Flush Girls (that's Ivy Teves in the photo) and even try out some Monster Headphones which are patched into the audio from the players' microphones.




Shawn Cunix's momentum couldn't last forever, and it came to a screeching halt in Hand #92.

With the board showing J
J
10
A
on the turn, Cunix three-bet all in, and Eugene Todd called. Cunix showed Q
J
for trip jacks with a gutshot straight draw — but it wasn't the best hand.

Cunix was shocked to see Todd turn over K
Q
for an ace-high straight.

The river card was the 9
, and Cunix lost the pot to drop all the way down to just 750,000 in chips — fewer than four big blinds.




When one player drops down, another player rises up. Doubling thru Shawn Cunix gave Eugene Todd the biggest pot of the tournament to that point — 12.8 million.

Each of the remaining players had been final table chipleader at least once. Could Todd hold on to the top spot?





This is the 13th straight year that Mike Sexton (left) and Vince Van Patten have been calling the action at televised WPT Final Tables, and they saw a lot of it on this day.

Just when Shawn Cunix looked like he was down for the count after losing that huge pot to Eugene Todd, he tripled up two hands later, and then doubled up three hands after that. That took Cunix up to about 20 big blinds, and gave him some breathing room as he attempted a dramatic comeback.




In Hand #120, Shawn Cunix and Eugene Todd were all in again, and this time Cunix had the best of it with A
Q
vs. A
J
. But both players had already been at the top *and* the bottom of the leaderboard, and their friendly fist-bump before the flop seemed to indicate that they were ready to accept whatever happened.




Unfortunately for Shawn Cunix, he watched the board come J
7
6
9
2
— Eugene Todd paired his jack on the flop and turned an ace-high flush to win the pot.

It was a painful beat, but Cunix walked away with a smile, knowing he still had plenty of things to be thankful for.




No lead seemed safe on this night, and with three players remaining, Aaron Mermelstein went on a hot streak over the span of 14 hands to go from the short stack (5.3 million) to the massive chipleader (21.7 million).




The last hand of that hot streak was Hand #153, when Randy Pfeifer three-bet all in for 17 big blinds with Q
10
— right into Aaron Mermelstein's K
K
.

The best hand held up, and Pfeifer was eliminated in third place to earn $253,263. Not a bad payday for the player that started the day last in chips.




With two players remaining, it was time for the Royal Flush Girls to put the cash and prizes on the table in the Money Presentation. With the cash in place, Aaron Mermelstein (left) and Eugene Todd (right) watch as Ivy Teves delivers the gold Monster 24K Headphones that will be awarded to the winner, along with a Hublot King Power Unico Titanium watch.

That cash on the table represents the first prize of $712,305.




Aaron Mermelstein began heads-up play with a nearly 3-to-1 chip lead, but it was far from over.




Eugene Todd studied his opponents carefully all night, and now all of his attention was on Aaron Mermelstein.

Todd battled his way back, narrowing the difference in their stacks over the course of the first 26 hands of heads-up play until they were nearly even in chips — about two big blinds apart.

Two hands later, the tournament all over.




In Hand #181, they saw a flop of Q
J
7
. Aaron Mermelstein bet, Eugene Todd moved all in, and Mermelstein snap-called. Todd showed Q
8
for a pair of queens, but Mermelstein turned over A
Q
for a pair of queens with a higher kicker.

The turn was the 3
, the river was the A
, and Mermelstein won the pot — and the WPT title — with two pair, aces and queens.




Mermelstein could hardly believe that he had just won a World Poker Tour title as he was interviewed by Poker Hall of Famer Mike Sexton in front of the TV cameras. It's the dream of young poker players everywhere.




For his victory, Aaron Mermelstein won $712,305, which includes his $15,400 entry into the season-ending WPT World Championship, held here at the Borgata Casino in April. Mermelstein also receives a WPT Champions Trophy, a pair of gold Monster 24K Headphones, and a Hublot King Power Unico Titanium watch.

To top it off, Mermelstein's name will be engraved alongside all past WPT winners on the one-and-only WPT Champions Cup.

Congratulations to Aaron Mermelstein!

1st: Aaron Mermelstein - $712,305*
2nd: Eugene Todd - $419,467
3rd: Randy Pfeifer - $253,263
4th: Shawn Cunix - $212,108
5th: Esther Taylor-Brady - $174,118
6th: Justin Liberto - $140,878

* Includes $15,400 seat into WPT World Championship.


Photography by Joe Giron.


Sorted In: Featured Blog, Borgata, Borgata Poker Open, Season XIII
07:46 AM, 01/31/15