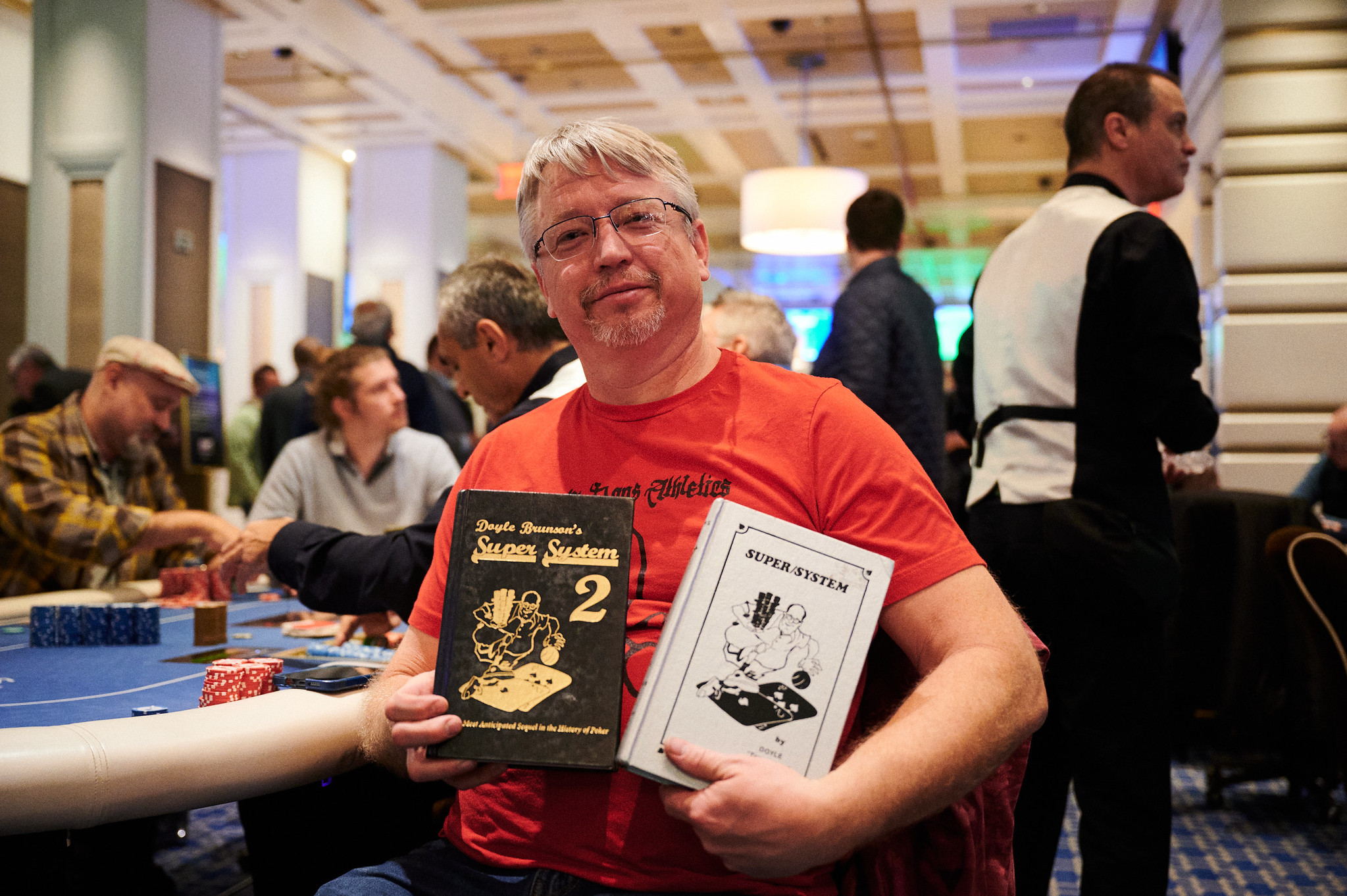 You've probably heard the old English proverb that says the early bird gets the worm. On Thursday, Jason Sprinkle was the early bird. The worm, it turned out was one of poker's greatest legends, or at least an autograph from him.
Sprinkle, a 50-year-old safety director for a commercial refrigeration company, arrived at the WPT Premier Meet-Up Game at Wynn Las Vegas at 7:30 am – some 2.5 hours before the official start time.
"There were some games going, but there was nobody on the list. So I was pretty much the first one here," said Sprinkle.
Sprinkle didn't have to wait long. By 9 a.m. there were more than 15 tables running with Andrew Neeme and Brad Owen moving from table to table. Sprinkle is a fan of both of them, but made the four-hour drive from Prescott, AZ with the hope of getting the opportunity to meet one player in particular.
"Doyle," said Sprinkle, referencing poker legend and WPT ambassador Doyle Brunson. "I watch all the poker vloggers. Every one of these guys and ladies that are in the room that are vloggers, I watch all of their material. And like I told Andrew when he sat down at our table, you've been an education and entertainment all at the same time."
After Brunson arrived, Sprinkle made his way over to the Poker Hall of Famer to have him sign a second edition of Brunson's poker strategy tome Super System and a first edition of the sequel, Super System 2. With autographs – the proverbial worm – secured, the rest of the day was all a bonus for Sprinkle.
"He's the Godfather. If there's a bucket list guy for me to meet and shake his hand, it was him," said Sprinkle. "I've played with a lot of pros. I've never had the opportunity to even be in the room with Doyle. So this is special."
Sprinkle only started playing poker 12 years ago. He devours as much poker educational material as he can, regardless of medium.
"I study a lot, I read a lot of books, I read a lot of articles, I watch a lot of video, and I play a lot," said Sprinkle. "I have a lot of friends who play as well so we talk about hand histories, ranges, all kinds of things, GTO these days – we talk about that."
Even moments after watching Brunson put ink to paper, Sprinkle was still moved by the entire experience.
"So surreal. Celebrity doesn't impact me a whole lot, it has to be a very specific person and this is one of those moments," said Sprinkle. "The legend of Doyle is wonderful and I'm glad I got to meet him and I'm glad he signed my books."
Sprinkle didn't get a chance to tangle with Brunson on the felt, but wouldn't have been as nervous to play a hand with him as he was to get the autograph thanks to the nature of the game.
"Poker is such a unique community because you can sit next to someone at a table and they're just another player at the table," said Sprinkle. "I have an opportunity just like they do. I think that's what is great about poker because there aren't any other sports where you can really do that, just come in off the street."
"I love my job, but if I could do this for a living I certainly would."