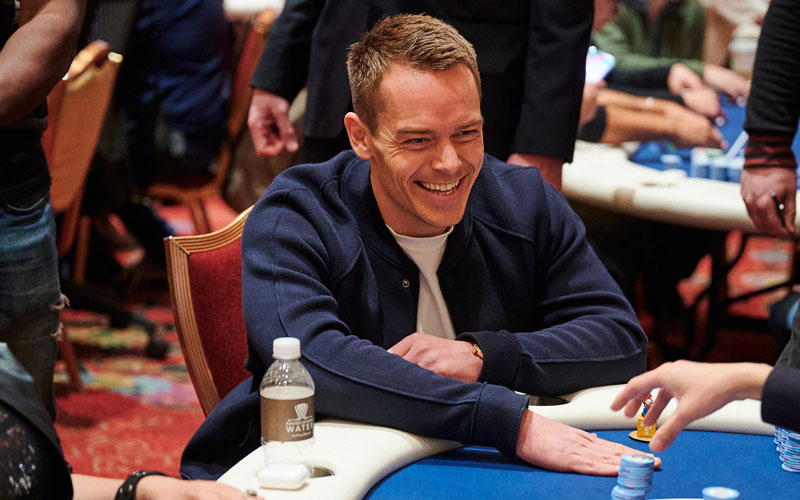 Just over 300 days ago, Espen Jorstad rivered a full house to close out the 2022 World Series of Poker Main Event and cement his place in poker history.
Jorstad, holding an otherwise unremarkable


, had trip deuces after a


flop. His last remaining opponent, Adrian Attenborough, had flopped a pair of his own with


. Jorstad was the aggressor throughout, and Attenborough was a non-believer. The

turn changed little, and then Jorstad rivered the
for a full house and an extra flourish.
He put Attenborough directly into the grinder with an all-in bet – 131 million into a pot of 200 million. When Attenborough said "F*ck it" and slammed down a stack of black chips, indicating a call, Jorstad officially sealed his victory as a Main Event champion and claimed the $10 million first-place prize.
Jorstad did his post-win interview, and as he sat in that moment, reality slowly started to fade back in with the conclusion of his singular task at hand. That life-changing moment, and a few others, are captured on the CBS broadcast of the tournament. That's a good thing because much of what transpired over those two life-changing weeks has seemingly fallen into a memory hole.
 "Most of the Main Event is a pretty big blur," said Jorstad. "I don't know if it's because of the overwhelming intensity of the situation, or what it is. But I felt like I was handling it pretty well in the moment. I didn't feel too much pressure or anything like that. After the fact, I don't remember much – a few key hands, and then I remember calling my mom after winning. That was the first moment that I felt some emotions."
 After a long summer and nine arduous days of grinding his way through poker's truest test of endurance, there was finally a break. A chance to appreciate just how much had changed in a matter of weeks, in a year that had started off in disaster. Jorstad lost the bulk of his net worth in cryptocurrency earlier in 2022, which also limited his bankroll and his schedule for the summer.
The first positive spike was a big one when he teamed with Patrick Leonard to win the WSOP $1,000 Tag Team event, the first bracelet win for each. And then, of course, a $5.6 million windfall – his share of $10 million, minus swaps with 14 other players.
Jorstad slowly got to appreciate some peace of mind, after having to be so locked in and prepared to make decisions that could carry seven-figure consequences. The big decisions could wait a few days, though, and after so much weight lifting off of his shoulders, it was the perfect time for Jorstad to unwind.
"For the next couple of days after, we went for a couple of nice dinners, and we went out, but nothing like super wild," Jorstad recalled. "Yeah, we partied and let loose a little bit. That partying is also kind of blurry, because of the mix of alcohol, and probably not having enough sleep for that last week and a lot of intensity and emotions – there was a lot of stuff going on there."
 As the afterglow subsided, the big question that has faced almost every modern WSOP Main Event champion started to hang over Jorstad as well.
What kind of Main Event champion do you want to be?
 "My choice was made pretty quickly," Jorstad said. "I felt it was a two-part thing. I had some online presence already – I was quite active on Instagram, and I had done some vlogging, streaming, and things like that before as well. And so I felt like that was a good way to, first of all, build a personal brand. Use the momentum for that, but also step up to the role as an ambassador for the game.
"I see myself as someone who embraces that there's like a wide range of approaches to poker. I think the way I see myself and the image that I try to portray, is that I'm on the healthier side – trying to eat healthy, exercise, not drink too much, meditate. I thought all of that would put me in a good spot to try to be a good example for the game and what an ambassador could be."
And so that's the type of WSOP Main Event champion that Jorstad set out to be. Over the next six months, Jorstad traveled the globe playing tournaments and documented his adventures along the way. There were escalating buy-ins as Jorstad took advantage of his new status in poker and a padded bankroll, as he played European Poker Tour events, World Series of Poker Europe and, ultimately, mixed it up at the highest tournament stakes in the world in the Triton Poker Super High Roller Series in Cyprus.
There were some more live results along the way, including fourth in an EPT London £25K event and ninth in the €25,000 Platinum High Roller at WSOP Europe. But as Jorstad pulled back into Las Vegas last December for the WPT World Championship at Wynn Las Vegas, it was clear to him that things had fallen out of balance between his time at the tables and the amount of time he was sinking into making content for his YouTube channel, among other platforms.
"It had been a bit of an identity crisis," said Jorstad. "I had some decisions to make. Do I want to be a content creator and a vlogger, personal brand type of guy? Or do I want to be the best poker player that I can be, trying to compete at the highest stakes and be very sharp, elite, technically. Or there's a third option, where I want to ride my scooter around the jungle in Thailand, work out, play poker when I feel like it, and live a very relaxed life.
"I'm still trying to figure out exactly what I want to do. But I think I realized that content creation is not going to be the choice for me," Jorstad continued. "It's just too draining in the sense that I'm not super comfortable on camera. I'm more of an introverted person. For me, it's much more comfortable to sit behind a computer, run sims and try to be super good at poker, rather than trying to be the super funny and charismatic person saying, 'Hey, guys, what's up?'"
Jorstad hasn't posted a video to YouTube since March 10. That was just a few weeks after he finally got paid out for his WSOP Main Event win, after a stressful stretch of trying to lock in an ITIN number to avoid paying millions of dollars in taxes. The relief of having all of these issues in the rearview mirror and the opportunity to get back in the lab has already paid dividends.
At the start of May, Jorstad traveled to Vancouver to play PokerStars' SCOOP online series, and he's already won twice, including a $165,317 payout for winning a $5,200 No Limit Hold'em event. Getting back to studying and battling it out in the online streets until just before the WSOP may well be the perfect crucible for Jorstad to forge another big win this summer.
Before he started his SCOOP schedule, Jorstad was on the fence about playing the bigger high-roller events at the 2023 WSOP. He didn't quite feel as sharp as he wanted to be when May began, but Jorstad's play of late has shown that he should be ready for the $50,000, $100,000, and $250,000 bracelet events, should the inspiration strike him.
Jorstad has already made history, as one of less than 50 players who has ever won the WSOP Main Event. He can pick and choose his spots as he pleases, and there's every reason to believe there will be more bumps in the road along the way. As Jorstad pushes forward in his poker career and his life, he simply hopes that he's able to take chances and remain realistic when things aren't working out.
"I had some fun doing it, and It's not something I regret getting into," Jorstad said. "But I do feel that my poker game suffered more than I should have let it because I was so preoccupied with a lot of these other things. I realized that it's not really doable with the goals that I have in poker, and that's okay."