Steve Buckner sat at a poker table in the middle of nowhere, Oklahoma, looking around the room, wondering what force had carried him to this place. He was about as far away from where he started as he could get. He was 62 years old, much older than many of the young players that populated the poker room. He was a born and bred New Yorker, raised on the mean streets of Brooklyn, and carried himself with a swagger and sensibility that, to the ears of the middle of nowhere Oklahoma local yokels, made him seem like someone from another planet. And he was nearing the dinner break of a $400 WSOP Circuit event, a far cry from where he sat just two months before: at the final table of a World Poker Tour event, one in which he finished 2nd place and cashed for $320,000.
That's the kind of tournament result that would put anyone else on cloud nine. To Buckner, it was a painful memory. He didn't remember it as winning $300k. He remembered it as losing his shot at a title, at getting his name on the Mike Sexton WPT Champions Cup, of being enshrined in poker history. And now here he sat, grinding a $400 event in the middle of nowhere. He looked around and took it all in, then he looked above him. There in the rafters hung banners with the likenesses of poker champions past. Right above his table looking down on him was the larger than life likeness of Chance Kornuth, the one who beat him in that event, the one who had his name engraved on the Cup instead of Steve's.
"That's when I knew," Buckner said. "That's when it clicked."
He put his head down and played his game. He won that event, of course. $25,000 and a WSOP Circuit ring. And from there Buckner, best known in poker circles as 'Cuz', his nickname of choice for anyone he happens to be talking to, kept on making deep runs and final tables at poker tournaments coast to coast, large and small. Four months later he found himself at the final table of the $10,000 buy-in WPT Five Diamond Classic in Las Vegas. He finished second again, this time for $690,000. And as the year came to a close, and he sat in the $10,000 WPT World Championship at the Wynn, he was 200 points away from being crowned Player of the Year. But he doesn't stare up into the rafters anymore. He doesn't think about what could have been. He puts his head down and plays his game.
"I'm concentrating on finding the bag, not the points," he says. "You can't win it today. Find the bag."
It has taken Steve Buckner his entire life to learn this lesson. He grew up in Brooklyn with a single mother and three siblings. His father left when he was three years old. His mother took up with a drug addict. "I remember my grandfather and father telling her, he's a drug addict. Don't go with him. And she said, no, I'm gonna change him," Buckner remembered. "You can't change a drug addict until he is ready to get clean. I was one of them."
Buckner grew up around drugs and crime his entire life. Robberies at 13, then marijuana, and eventually cocaine at 16. His stepfather was addicted to heroin. "There was always police at the house. He was overdosing." His stepfather painted a picture of a life Buckner wanted to avoid at all costs. He started dealing cocaine as a way to escape the life of an addict. "It was rough, rough life. And I guess I went this way to get away from that."
To keep Buckner away from the corners, in 1976 his mother got him a job unloading trucks at a fruit market in the South Bronx for $30,000 a year. She did him a favor, but not the kind she meant to do. Buckner turned the truck drivers into his customers. For the next seven years Buckner's drug business grew and grew. His customer base went from people he knew in his Bensonhurst neighborhood to a nationwide network of truck drivers. "All the truckers from all over the country knew that I had the goods and word spread out."
He was on top of the world. By 1983 he had saved up $2.6 million, all in cash stashed in a safe. He lived large, traveled, gambled high, partied with high rollers. Then his uncle was arrested for running numbers and sentenced to four and a half to nine years. That woke Buckner up. The risks of his lifestyle were laid bare to him. He could go to prison, too. So he figured, why not stop? He had enough money in the safe to last him a lifetime. "So I stopped dealing. But I couldn't stop using."
Over the next two years he lived it up. He bet sports at $20,000 a game. He'd go to a club and buy the entire bar tab. "I got the whole bill for everybody, cuz. Everybody knew me. I was a big shot, you know?" And he kept using cocaine. Within two years he emptied the safe. "Went through millions. Yeah. I couldn't stop using Coke. I was broke." He was 25 years old, broke, and homeless. Rock bottom.
For the rest of 1985 Buckner went to meetings, trying to get clean. After a year of sober living, his sponsor suggested it might be time to get a job. So Buckner thought about his skill set. He had become a millionaire from selling drugs, so he knew how to sell. Perhaps he could do it all over again, only selling something that wouldn't land him behind bars. So he went to work at a car dealership, and within six months he was the top salesman. Before long he was a finance manager making $140,000 a year. He worked hard, made good money, and before long felt a familiar itch. Not the one for drugs, but the one for money. It was the 1990s, and everyone was making money in the stock market. So he took some of his money and started buying and selling stocks. "I'm a risk taker," he says. "I used to trade my own portfolio. Millions of dollars per day." By 1997 Buckner was a millionaire all over again. Being a risk taker had delivered him to incredible highs. But the thing about risk taking – it's risky.
"There were 99 traders, they was all long. I was short," he explained. "I shorted the market. And I was persistent the market was gonna come down." It didn't come down. The tech bubble of the late 90s persisted longer than Buckner's bankroll could withstand. "That was the second time I went broke."
Over the next few years Buckner made his way, a little of this, a little of that. Over the years he had made and lost millions twice and knew that he could always make money with a little bit of work and a whole lot of gumption. By 2005 he was getting involved in real estate flipping houses. One day while hanging out in a cigar shop he had a conversation that would change his life. Someone asked him if he wanted to play No Limit Hold'em. He knew poker well, had played for many years, but Hold'em was a mystery to him. His only encounter with the game was a chance visit to the Horseshoe in Las Vegas in the late 70s, when he was flush with cash and living large. He sauntered up to a No Limit Hold'em game and asked how much they were playing for. "One two" was the answer. "One hundred two hundred?" he asked. "No, one dollar, two dollar." He laughed and walked away.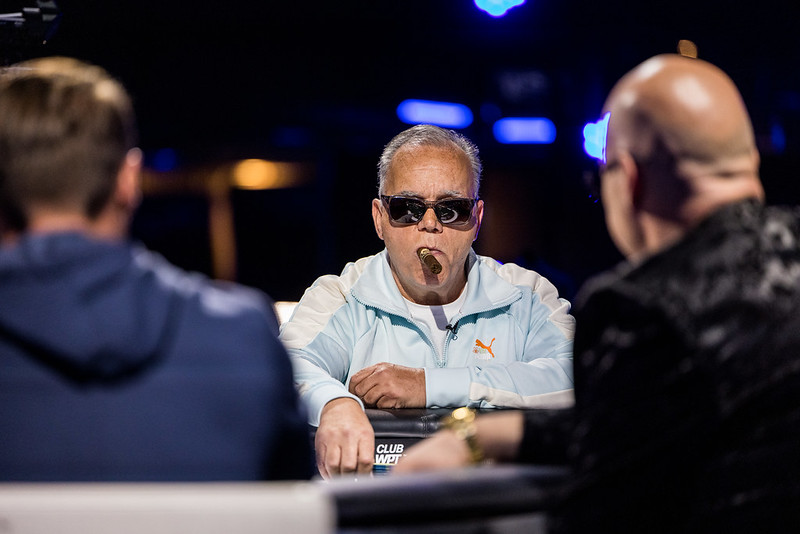 But now in the cigar store things were different. He didn't have twenty grand in his pocket. He didn't have millions in cash in a safe. The guys at the shop wanted to play a $200 buy in tournament with him. He said sure, why not? And he won. Soon he started watching people play No Limit Hold'em tournaments on television and thought maybe I could do that. He flew to Vegas for the 2005 World Series of Poker and cashed in two events for a little over $10,000. From there he was hooked. For the next couple of years, he traveled around the country playing poker tournaments, making some deep runs, getting a handful of five figure cashes. By 2010 he was broke again, living in a Ford F-150, showering and brushing his teeth in the gym.
Steve Buckner was caught in this cycle. Feast or famine. He wasn't bad at poker. In fact, he was remarkably good. At the height of the American poker boom Buckner was running deep in big events without any formal study or training. "I've never read a book. Not one book," he boasted. The secret to poker, to his mind, was not being intimidated by the pros. "Those guys are good players, but they're not gonna teach me how to play poker," he explained. "But they put you to the test all the time and you better be ready to put your pants on. You better be able to put your big boy pants on. Or they're gonna take advantage of you. They're not taking advantage of Cuz."
The truth is, Buckner's secret to his success is no secret at all. He's good at poker because he plays the game true to himself, to the way he has lived his life. "People ask me about my game and I try to tell them that this game, I can't teach you what I have. It comes from the street, comes from knowing people, knowing percentages, knowing patterns of betting. That's something that comes from within you," he says. Buckner's secret is that he is who he is. "I can't teach that. You're never gonna be me."
Still, tournament poker is a tough way to earn a living. Even the some of the best players rely on backers to stay on the trail. Buckner would find backers, they'd put him into tournaments, he'd earn them a little money, they'd cut him off. He just needed one big score to set things right. And he was confident he'd eventually find it if he stayed in action. In 2018 he was living in Caesar's Palace on his Seven Star reward points, gambling with freeplay, totally broke. A poker player he knew called him up and offered to put him into a $1,500 buy in event in the WSOP. Buckner went to the Rio and entered. When he called his backer the next day, he asked him "did you bust out?" Yeah, Buckner answered. I busted out in fourth place. He gave his backer a check for $60,000, roughly half the $121,000 prize.
Buckner used that money to pay off people he owed and got himself back on his feet. He was 58 years old and living on his mother's couch. He bought a condo nearby so he could still keep an eye on her and help her out. But after that he was broke again. Couldn't even furnish his condo. He  was sleeping on a box spring and mattress. He asked a friend's son who was always driving a brand new mercedes ever year what he did for a living. The kid told him he sold health insurance. "I grabbed him his arm and said 'I want to see your boss tomorrow. I need a job.'"
Selling, that was something that came natural to Buckner. Within a couple of months he made $40,000. But his new boss was keeping a couple grand      from each check, claiming he needed to hold it in case of chargebacks. Buckner didn't like that. "I said, you're full of shit. You're lying to me. I said, if my friend's son wasn't working for you, I'd put a gun to your head and I'd get my $2,000. But because my friend's son is here. I said, 'you're a dirtbag.' I left." After that, Buckner went to school, got his own health insurance license, and went to work for another company. He made $139,000 in 32 weeks. The rest of the year he traveled the poker tournament circuit. Cuz was back in action.
Just when it felt like things were going well for Buckner, the pandemic hit. Lockdown. Then his mother was diagnosed with stage 4 lung cancer. He spent her final months by her side, taking care of her, bathing her, changing her, feeding her. It was a difficult battle, and in a matter of months she succumbed to it. Buckner had been at the bottom before, homeless, destitute, addicted. But this, this was something different. This affected him in a profound way. He was consumed with grief. But he didn't intend to sit at home, locked inside away from the world. He needed to be in motion. He had never sat still in his entire life, and now that he did for the first time, something terrible happened. He needed to get back on the road. Like a shark, he needed to move. If a shark stops moving, a shark dies.
Buckner called a friend he met in the car business who had told him once that if he ever needed anything to call. Twenty years later, he decided to take him up on it. He called him up.
"I heard you lost your mom," he said.
"Yeah," Buckner replied.
"You want to play poker, Cuz?"
"Yeah."
"I got you."
And with that, Buckner was back out on the road. He had been on the road before, but this time something was different. This time a fire was lit underneath him. And that fire carried him through the middle of nowhere Oklahoma right up to the WPT World Championship, a millionaire again, and two hundred points away from Player of the Year heading into the final event of the year.
"I'm a warrior, I'm a grinder," Buckner proclaims while relaxing in the VIP lounge of the WPT event at the Wynn. "I'm doing what the 30-year-olds are doing. There are not too many 62-year-olds that are traveling the country like I am. Gets depressing sometimes. But I love the game so much. And I told my backer, I said, when this is no longer fun, I'm out."
One thing that sets Steve Buckner apart from these other players besides his age and agility on the road is his perspective. For him, being a high stakes tournament poker pro is the fourth or fifth act in the opera that is his life. He's been here before. He knows how easily it can all slip away if he isn't careful. And he knows how to appreciate how fortunate he is to have what he has.
"Do I get depressed when I lose to two outers three times this week? It's poker. It's just poker. It's just the game," he says. "And losing is part of the fun. Losing is part of the game. It's how you take the loss and how you come back."
If there's one thing Buckner can do, it's come back from a tough beat. And that may be his secret. As he faced down the record-setting crowd in the final WPT event of the year, he needed a 24th place finish or better to capture the player of the year honors. And while he reached the money for the fifth time this season on the WPT (out of 10 total main tour events), Buckner fell just 50 points shy of winner Chad Eveslage – another second place finish.
But even as he faced down a doomed challenge in the midst of his final WPT event of the year, Buckner refused to buckle in his resolve. After cycling through good times and bad throughout his life, he's determined to make this good run stick.
"You think I'm giving up? You think I'm negative? When I was homeless, when it was dark and gloomy at the darkest times, I always seen the light. Most Americans, most humans can't do that. They get in that rut and they can't get out, Cuz."
"When you're down and out that low and you get there, you appreciate life. I mean, I don't know how long God's got in stock for me, but guess what? I'm gonna live. I live my life every day. I'm doing exactly what I want to do."