2023 has already been a banner year for the PokerGO Tour. They've expanded their offerings with a well-received Mixed Game Series and recently they broke in-house player pool records for their inaugural PGT PLO series. But now it's time for them to get back to basics with some good ol' No Limit Hold'em and the return of the U.S. Poker Open.
Originally started in 2018, this will be the fifth iteration of the U.S. Poker Open (skipped in 2020) and, if recent PGT player trends keep pace, this series has the opportunity to be the biggest in the studio's history. However, even with expanding fields, there's a narrow profile for the type of player who likely has a shot at taking home the U.S. Poker Open's enormous Golden Eagle Trophy. We're looking at picking elite high rollers who have previously succeeded in the PokerGO environment with bankrolls big enough to fire in the majority of the 10 events.
In a series with an overall leaderboard, First Rounders is once again looking to select an overall champion. Kind of like how we nailed the overall champion the last time we picked for a PGT event. But, enough back patting, let's get into it – here is our First Rounders for the 2023 PGT U.S. Poker Open.
#1. Stephen Chidwick
This is the fifth edition of First Rounders and frankly, it's a little silly that Stephen Chidwick had yet to be included. That ends now. Not including him was no disrespect, in fact, quite the opposite. You can literally always draft Chidwick to be the top dog in nearly any event or series and feel good about the pick – he's undeniably one of the best to ever see a flop.
But the time is finally right to make him our top choice. Not only has he obliterated the competition in this event in the past, winning the first-ever U.S. Poker Open in dominating fashion, but according to The Hendon Mob he's the current all-time leader in cashes (15) and top-three finishes (9) at this series. He's scored nearly $2.9 million in U.S. Poker Open results and, simply put, has always been a factor when at the table.
Add to that, Chidwick is already on fire in 2023 and is coming off a very successful run at the Triton Super High Roller Series in Vietnam where he cashed for more than $1.7 million, including a runner-up finish in the $75,000 NLHE event for $1.245 million. In total, has added just over $2.6 million in 2023, pushing his career earnings to $47.2 million – fourth on the All-Time Money list behind just Justin Bonomo, Bryn Kenney, and Daniel Negreanu.
All of the above, and so much more, make him our top choice. The only real question is – will Chidwick actually show up? We're thinking he will – in more ways than one.
#2. David Peters
This isn't our first time picking David Peters in a PGT series and it certainly won't be the last, with good reason. There have only been four previous U.S. Poker Open titles and Peters has won two of them outright in back-to-back fashion (2019,2021). Nearly $3 million of his career total $42 million has come from U.S. Poker Open events and he is the current series record holder for most event wins (5) as well.
Our only concern here is the same one we had when we picked him for the PokerGO Cup – will he get out of bed to play a $10k? Will he only show up for the final two events? We're thinking he's going to fire nearly all of these events, if only because he may be itching to play some poker. His last result was nearly two months ago when he was crushing the high-stakes scene at the PCA. He's had a healthy Q1 of 2023 with a pair of cashes in the PokerGO Cup and six scores in the Bahamas for more than $500,000 including a sixth-place finish in the $100k NLHE for $315,600. But two months is a long time for someone with Peters' poker pedigree so we expect, if he's able, the NLHE specialist will be firing in a majority of the events.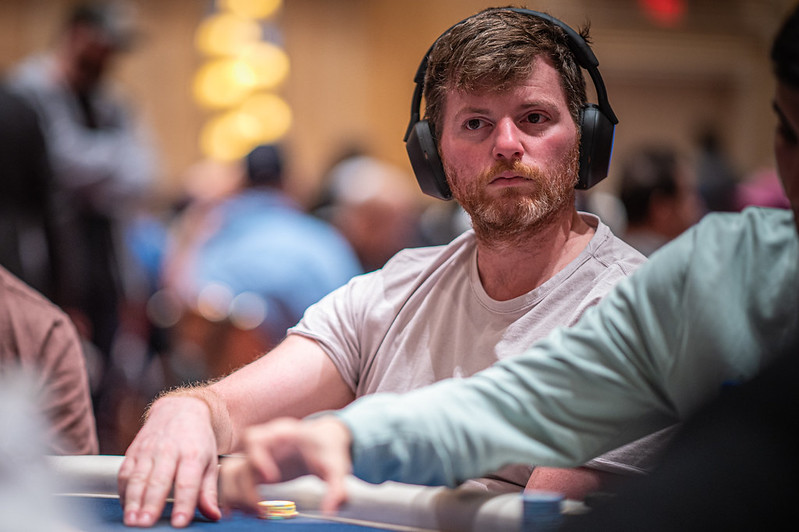 #3. Nick Petrangelo
Another player who is always in the mix at the PokerGO Studios is Nick Petrangelo. And while he's not one of the leaders when it comes to past performance ($310,100 career USPO earnings), Petrangelo – one of best players on the planet – is in the middle of a 2023 heater that could carry over to this series.
So far this year, Petrangelo has tacked on $2.2 million to his career earnings, pushing his lifetime totals up over $29 million and putting him into the top 20 on the All-Time Money List. After a deep run in the PokerStars PCA Main Event (27th, $44,700) Petrangelo flew to France to collect a number of big scores during EPT Paris, including back-to-back high roller final tables for a combined score of more than $600,000. He took very little time off before making his way to the Triton Super High Roller Series in Vietnam where he booked three six-figure scores including a final table finish in the $100k Main Event for more than $566,000.
Petrangelo has a pair of ITM finishes from January's PokerGO Cup series, but outside of that he's not yet made waves in terms of PGT points. If he's back and rested from Vietnam, we expect that could change in the USPO.
#4. Alex Foxen
There was a time when Alex Foxen was one of the foremost globetrotting nosebleed crushers on the planet, adding flags from around the world to his Hendon resume almost at will. But over the past few years (perhaps in parallel with a certain chain of events), Foxen, a Las Vegas resident, has preferred to keep things a little closer to home. While his reputation as a first-class passenger may have changed, his status as a high-stakes destroyer hasn't changed as he's been a cash-collecting menace in all things PGT. 
Foxen has already cleaned up in PGT events in 2023, kicking off the year with a second-place finish in the 2023 PokerGO Cup $10k for $153,000 and following that up with a victory in the $25,000 event for another $317,040. Then, just last week, Foxen scored another pair of ITM finishes during the 2023 PGT PLO Series for a combined $150k haul. He's already racked up 14 ITM finishes in 2023, five of which are for six figures.
When it comes to history in the USPO, Foxen is eighth all-time in earnings with just over $1 million of his $28 million in lifetime live tournament cashes coming from this series. As good as that is, the ceiling for success for Foxen in this series is much higher. With only a single win in four previous series, he's primed to add even more USPO accolades this year.
#5. Michael Wang
Las Vegas tournament pro Michael Wang has been seen hanging around the PokerGO Studio more and more over the past year or so and finding his fair share of success whenever he does. A two-time WSOP bracelet winner, Wang's never-ending list of recent results read like a player who would be burning opportunity if he stayed away from the poker table. In 2022 Wang has more than 50 live results including a career-high cash of $541,604 when he won his second career WSOP bracelet in the very tough field of the $5,000 No Limit Hold'em.
When it comes to the PGT, Wang thrives. Although it's early in the year, he's currently sitting fourth on the 2023 PGT Leaderboard and just scored a pair of cashes in the 2023 PGT PLO Series, including a runner-up finish in the $10k for $136,000.
The longshot part of this pick is it's unknown if Wang is ready and willing to fire all of these events. He's been doing well in PGT events, including a major win in the Wynn Million $10k High Roller for more than $308,000, but he may be waiting to see if he can satellite his way into the bigger buy-in events. He's a qualifier master, having found heaps of success in PGT's Stairway to Millions series, and he's already won a seat into one of the first $10k events so we think that he's going to find his way into enough events to be a factor this year.
#6. Shannon Shorr
Las Vegas resident Shannon Shorr has been grinding out a healthy 2023 thus far. He picked up some nice five-figure scores while in the Bahamas for the PCA and PSPC and scored $53,561 late last month with a runner-up finish in a $3,000 WSOP Circuit event. All-in-all, it's been smooth sailing for the veteran pro…but nothing to write home to Alabama about.
But it was just last year, when Shorr put on a spectacular USPO performance. He racked up three final tables over four in-the-money finishes and walked away with an event victory for a grand total of $532,900 in winnings. And it looks like the time is right for Shorr to do it again. Normally a mid-stakes grinder, at least compared to these nosebleed buy-ins, we expect Shorr to fire a couple of early $10ks and if things break the right way, he could fire (or satellite) into the final big buy-in events, where Shorr is as big a threat as anyone to pick up the win and, perhaps, walk away with the Golden Eagle Trophy.