After five days of poker at the World Poker Tour's Seminole Hard Rock Poker Showdown, 2,290 entries into the $3,500 main event have been whittled down to the final six players.
Bin Weng carries a substantial chip lead into the final table, which will play out May 25 at HyperX Arena in Las Vegas on May 25. Weng is the only player with WPT final table experience, while the other five players in the mix are at their first career WPT final table – but that's not to say there isn't a lot of big tournament experience on some of their résumés.
They're all guaranteed $238,000, with the winner set to take home $1,128,250 and a seat in the WPT World Championship at Wynn Las Vegas in December. The clock reads 12 minutes, 49 seconds left in the level (150,000/300,000 with a 300,000 big blind ante).
Let's get to know each of these six players still pursuing a permanent spot on the Mike Sexton WPT Champions Cup.
Seat 1: Mitch Garshofsky | 18.55 million (62 big blinds, 3/6)
Age: 63
Hometown: Bellmore, New York
Currently Resides: Las Vegas, Nevada
Lifetime Live Tournament Earnings: $1,718,331
Biggest Lifetime Cash: 1st, 2022 $1,600 Wynn Summer Classic for $333,329
Other Prominent Scores: 2nd, 2022 $1,100 Wynn Signature Series for $108,838; 3rd, 2019 Venetian Deepstack Extravaganza $1,600 Main Event for $102,933
Mitch Garshofsky has a few reasons to be happy about the final table taking place in Las Vegas. For one, It's where he's currently living. The other is that Vegas is where Garshofsky has recorded the three largest cashes of his tournament poker career, including a $333,329 win during the 2022 Wynn Summer Classic. He'll need to make two pay jumps, to fourth place or better, to beat his career-best cash at the Seminole Hard Rock Poker Showdown final table.
After a long stretch of eight-handed play on Day 4 Tuesday, Garshofsky helped break the stalemate and start the sequence that got the field down to six. He knocked out two-time WPT runner-up James Anderson when his

held against Anderson's all-in preflop with


. Garshofsky was one of only three players with multiple eliminations on Day 4, having also knocked out Champie Douglas in 14th.
End of Day 1 chip count: 106,000
End of Day 2 chip count: 1.58 million (23/107)
End of Day 3 chip count: 5.575 million (9/16)
Seat 2: David Mzareulov | 13.35 million (45 big blinds, 4/6)
Age: 36
Home Country: Azerbaijan
Currently Resides: Houston, Texas
Lifetime Live Tournament Earnings: $997,340
Biggest Lifetime Cash: 2nd, 2021 $1,125 Millionaire Mayhem Poker Series (Round Rock) for $205,000
Other Prominent Scores: 4th, 2021 WSOP $2,100 Online Bounty Championship for $82,148; 6th, 2021 $1,700 WSOP Circuit North Carolina Main Event for $71,480
David Mzareulov cleared $1 million in career live tournament earnings with his result in this WPT main event, and he's looking for his first major title. He's already enjoyed considerable success at other buy-in levels to this point, having captured GPI's Mid-Major Player of the Year award in 2021 with a variety of strong results, including a $205,000 cash for a second-place finish at The Lodge in Texas.
The 36-year-old father of four has already locked up his career-best result. Mzareulov fought back from one of the shortest stacks to start Day 4 of this tournament, and he's right in the thick of things in the middle of the pack when play resumes later this month in Las Vegas.
End of Day 1 chip count: 117,500
End of Day 2 chip count: 750,000 (70/107)
End of Day 3 chip count: 2.725 million (14/16)
Seat 3: Rafael Farah Jarufe | 4.275 million (14 big blinds, 6/6)
Age: 55
Hometown: Lima, Peru
Lifetime Live Tournament Earnings: $84,549
Biggest Lifetime Cash: 54th, 2019 $10,300 partypoker Millions for $35,000
Rafael Farah Jarufe is one of five players at this final table who was born outside of the United States. Prior to the 2023 Seminole Hard Rock Poker Showdown, two of Farah's most notable results were in WPT events held at this property. After recording 125th and 57th place results in 2022, Farah busted through with a final table appearance and a result that will already multiply his career live tournament earnings.
Farah, also a father of four, will have a long way to fight back to dig out from the shortest stack, as chip leader Bin Weng will have more than 10 times as many chips as Farah when the tournament resumes.
End of Day 1 chip count: 85,000
End of Day 2 chip count: 1.01 million (52/107)
End of Day 3 chip count: 10.8 million (3/16)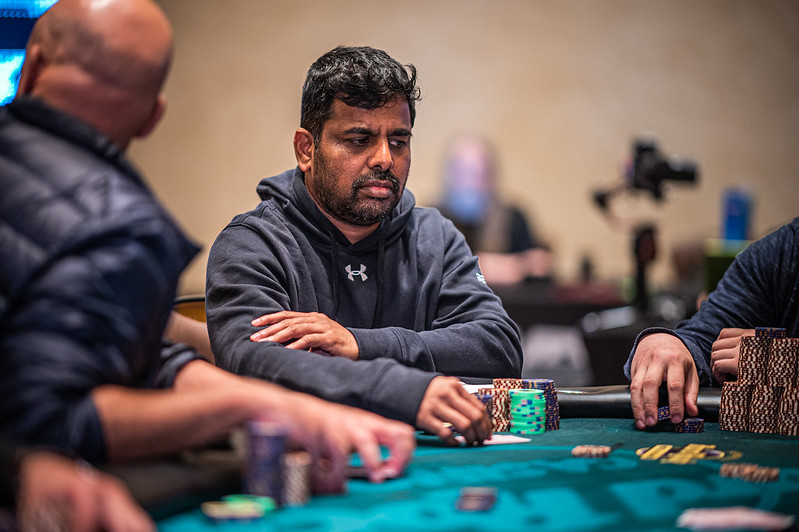 Seat 4: Sridhar Sangannagari | 19.1 million (64 big blinds, 2/6)
Age: 47
Home Country: India
Currently Resides: West Windsor, New Jersey
Lifetime Live Tournament Earnings: $175,358
Biggest Lifetime Cash: 11th, 2022 WSOP $500 Housewarming for $54,705
Sri Sangannagari is largely known for his online tournament poker results as 'sri50k' or 'sri100k', with at least $1.7 million in lifetime online results, according to PokerStake. With this result, Sangannagari has already cleared all of his previous live tournament cashes in a single event. It was quite a run for Sangannagari, who was playing his first career WPT Main Tour event, and reached the final table with a single entry into the tournament.
After entering Day 4 as the chip leader, Sangannagari finished play on Tuesday with a very similar stack. That's still good enough for second in chips when play resumes, as Bin Weng's absolute tear absorbed a considerable amount of the rest of the chips in play over the course of Day 4.
End of Day 1 chip count: 315,000
End of Day 2 chip count: 1.37 million (33/107)
End of Day 3 chip count: 18.125 million (1/16)
Seat 5: Bin Weng | 46.05 million (154 big blinds, 1/6)
Age: 40
Home Country: China
Currently Resides: Philadelphia, Pennsylvania
Lifetime Live Tournament Earnings: $3,203,466
Biggest Lifetime Cash: 1st, 2023 $5,300 Borgata: The Return Main Event for $1 million
Other Prominent Scores: 1st, 2023 $1,700 WSOP Circuit Las Vegas Main Event for $227,344; 6th, 2021 WSOP $50,000 High Roller for $202,236
It has already been a tremendous year for Bin Weng, who opened 2023 by winning $1 million and the title at Borgata's 'The Return' in January. The following month, he won the $1,700 World Series of Poker Circuit main event at Horseshoe Las Vegas, punching his ticket to the upcoming WSOP Tournament of Champions. Now he has his sights set on a WPT title to add to a dizzying run of play, and with 40 percent of the total chips in play sitting in his stack, Bin Weng already has a strong head start towards that victory.
Weng is also the only player with WPT final table experience, having finished fifth in the 2020 Borgata Winter Poker Open, at a final table that also featured the eighth-place finisher in this event, James Anderson. Weng locked down the final six when he eliminated Isaac Kempton in seventh place, bringing Day 4 action to a close.
End of Day 1 chip count: 280,000
End of Day 2 chip count: 1.6 million (21/107)
End of Day 3 chip count: 10.575 million (4/16)
Seat 6: Naing Thu | 13.25 million (44 big blinds, 5/6)
Age: 37
Home Country: Burma
Currently Resides: Davie, Florida
Lifetime Live Tournament Earnings: $35,870
Biggest Lifetime Cash: 23rd, 2019 WPT Seminole Rock & Roll Poker Open for $19,200
Naing Thu is the only Florida local at this final table, and one of only two players with less than $100,000 in career tournament earnings before this event. In fact, his previous career-best cash was for $19,200 when he finished 23rd in the 2019 WPT Seminole Rock & Roll Poker Open. The 37-year-old father of twins is virtually tied for fourth place with a Mzareulov, separated by just a single 100,000 chip (one-third of a single big blind).
End of Day 1 chip count: 347,000
End of Day 2 chip count: 1.12 million (44/107)
End of Day 3 chip count: 6.35 million (7/16)