The first WPT bestbet Scramble in four years is poised to crown a new champion. Six players will return to bestbet Jacksonville on Tuesday afternoon at 2 p.m. ET to fight it out for the title, a first-place prize of $351,650, a seat in December's WPT World Championship at Wynn Las Vegas, and a permanent spot on the Mike Sexton WPT Champions Cup.
Players from Florida make up half the table, including chip leader Heng Zhang and Ian O'Hara, the latter of which has over $4.1 million in lifetime poker tournament earnings. The lone player from Jacksonville proper, Michael Frierson, is in a position to multiply his career earnings by several times over – and that's after spinning up a $120 super satellite win on his way to just winning his seat into this tournament.
Frederic Normand made a long trip from Montreal and has already made it worth it by making this final table, and he's well within striking distance of the chip lead. Toby Boas, who is from Florida but now calls North Carolina home, has enjoyed considerable career success at bestbet Jacksonville. And Brian Senie, who rounds out the final six as the short stack, has some history to make up for. He finished fifth in this tournament all the way back in 2012, and despite recording just a single tournament cash since August 2018, Senie is back for another shot at the title.
Ahead of Tuesday's final table, let's get to know each of these final six players a little bit better.
Seat 1: Michael Frierson | 3,460,000 (69 big blinds, 3/6)
Age: 39
Birthplace: Honolulu, Hawaii
Currently Resides: Jacksonville, Florida
Lifetime Live Tournament Earnings: $62,849
Biggest Live Cash: $33,366, 5th, 2023 bestbet Winter Open $2,000 Main Event
Everyone who's been in or around the game of poker can speak to the magic of a spin-up. In a tournament context, it can mean spinning up your last few chips into a competitive stack. But in the case of Michael Frierson, his spin-up came well before the first card went into the air in the $5,000 bestbet Scramble. Short on cash, Frierson put up a $120 buy-in for a feeder satellite and won a seat to qualify for a $580 satellite. Winning that second satellite got him into this $5K event, and from there, Frierson has made the most of the opportunity. Even if he were to go out first on Tuesday, he will have made more than 586 times his initial $120 buy-in.
Once he made the money, however, Frierson's eyes have been on a much bigger number – the one that comes with the No. 1 spot.
"There's only two numbers [that were] in my mind," Frierson told Tony Dunst after action wrapped Monday night. "The min-cash, which was a bit over $9,000, and first prize, which is over $350,000. I haven't made a single consideration for any other number. That's the one I'm after. I've got to get this championship. I'm not making a single pay-jump consideration. I want to fight for the top spot or end up where I end up."
End of Day 1 chip count: 223,000 (25/126)
End of Day 2 chip count: 1,085,000 (7/17)
Seat 2: Heng Zhang | 5,780,000 (116 big blinds, 1/6)
Currently Resides: St. Augustine, Florida
Lifetime Live Tournament Earnings: $454,676
Biggest Live Cash: $81,000, 75th, 2021 World Series of Poker Main Event
Coming into a WPT Championship Event with the chip lead is an accomplishment in and of itself. Add in a pair of recent deep WSOP Main Event runs (75th in 2021, 191st in 2023) and a Mystery Bounty tournament win for $74,010 at bestbet Jacksonville back in August, and there's little doubt that Heng Zhang can hang with some really good No Limit Hold'em tournament players.
Those accomplishments are made all the more impressive by the fact that it isn't even Zhang's typical game of choice.
"I'm a PLO cash game player," Zhang said. "I don't really play [these much], like 10 tournaments a year, except during WSOP main event time. Hopefully now I can play more tournaments in the future.
"I feel like a lot of players just play way better than me and with tournaments, there's a lot of luck involved. But yeah, I've tried to improve my tournament game."
With one pay jump, Zhang would lock up a career-best poker result. With a win, he'd be guaranteed to play at least one more tournament – the WPT World Championship in December. 
End of Day 1 chip count: 214,000 (26/126)
End of Day 2 chip count: 1,680,000 (5/17)
Seat 3: Frederic Normand | 5,000,000 (100 big blinds, 2/6)
Currently Resides: Montreal, QC, Canada
Lifetime Live Tournament Earnings: $573,081
Biggest Live Cash: $177,732, 5th, 2023 World Series of Poker $3,000 No Limit Hold'em
Frederic Normand even being in Jacksonville at the right time is a matter of good circumstances and timing. After a couple of breakout results this summer – a fifth-place finish and an 11th-place finish in WSOP bracelet events, both $3,000 No Limit Hold'em – Normand returned to Canada.
Then, as he prepared for an annual road trip, a now prescient-seeming piece of advice took Normand on a short detour.
"A good friend of mine made the suggestion to me a couple months ago," said Normand. "I go for a couple months a year down to Miami, and I was going to go there next week.
"I took my car, drove here – it's a long drive from back home – and I said, 'I'll try it out and see how it goes. And yeah, I won my seat through a satellite and here I am."
While Normand will have a strong ROI no matter where he finishes, he'll have to get second or better to set himself a new high-water mark for his best live tournament cash.
End of Day 1 chip count: 382,500 (3/126)
End of Day 2 chip count: 1,885,000 (3/17)
Seat 4: Brian Senie | 995,000 (20 big blinds, 6/6)
Age: 37
Currently Resides: New Orleans, Louisiana
Lifetime Live Tournament Earnings: $492,791
Biggest Live Cash: $102,151, 5th, 2016 EPT Prague €10,300 No Limit Hold'em
Back in 2012, Brian Senie made his first major final table in the WPT bestbet Fall Poker Scramble. Traversing a field of 477 entries in that $3,500 buy-in event, Senie booked his spot among a final six with some true poker heavyweights of that time – Noah Schwartz, Byron Kaverman, and Lee Markholt among them.
Schwartz blitzed his way to the title, taking the tournament down in a matter of 80 hands at one of the fastest final tables in WPT history. Senie settled for fifth, good for $77,083, and later broke the six-figure mark with a fifth-place finish in an EPT Prague side event in 2016.
But with the exception of a recent cash in a local New Orleans event back in October, Senie hadn't recorded a single major tournament result since August 2018, when he took 58th place at WPT Choctaw.
In any event, Senie enters Tuesday's bestbet Jacksonville final table on the short stack, but a single double-up could put him right back into the thick of things.
End of Day 1 chip count: 224,500 (24/126)
End of Day 2 chip count: 1,730,000 (7/17)
Seat 5: Ian O'Hara | 1,055,000 (21 big blinds, 5/6)
Age: 30
Birthplace: Boca Raton, Florida
Currently Resides: Boca Raton, Florida
Lifetime Live Tournament Earnings: $4,170,473
Biggest Live Cash: $527,313, 2nd, 2015 Seminole Hard Rock Poker Open $25,400 High Roller
Other Notable Results: 3rd, 2021 Seminole Hard Rock Poker Open $5,250 Championship event for $437,350; 2nd, 2021 World Series of Poker $10,000 Seven Card Stud Hi-Lo Championship for $218,144; 6th, 2019 WPT Borgata Winter Poker Open Main Event for $154,734
Ian O'Hara's results on the felt speak for themselves. He's found himself close to a title in several major events in recent years, including a 3rd place finish in the 2021 Seminole Hard Rock Poker Open Main Event and second in the 2021 WSOP $10K Seven Card Stud Hi-Lo Championship.
Along with Senie, O'Hara is the only other player with previous WPT final table experience. In early 2019, O'Hara finished sixth in the WPT Borgata Winter Poker Open, taking home over $150,000. Later that year, in October, O'Hara made a run in the 2019 WPT bestbet Bounty Scramble, before ultimately bowing out in 19th place.
On Tuesday, O'Hara will get another shot at claiming one of the few things missing from his live tournament resume – a true major title.
End of Day 1 chip count: 369,000 (6/126)
End of Day 2 chip count: 1,150,000 (6/17)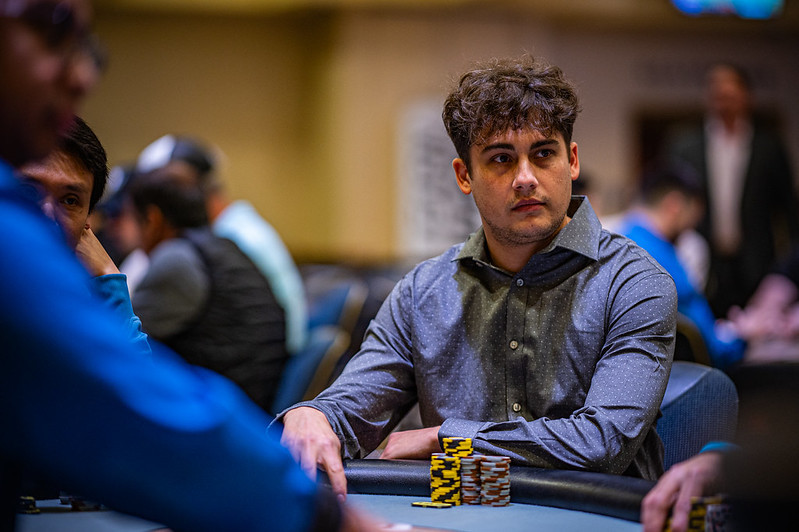 Seat 6: Toby Boas | 1,960,000 (39 big blinds, 4/6)
Age: 30
Birthplace: Orlando, Florida
Currently Resides: Sylva, North Carolina
Lifetime Live Tournament Earnings: $1,530,333
Biggest Live Cash: $345,244, 2nd, 2022 World Series of Poker $3,000 No Limit Hold'em
Other Notable Results: 3rd, 2018 WSOP Circuit Cherokee $1,700 Main Event for $143,012; 2nd, 2021 WPT Seminole Hard Rock Poker Showdown $2,200 No Limit Hold'em for $133,895
Four of the top five live cashes in Toby Boas' career have come via second-place finishes. Most recently, he took second in a $3,000 No Limit Hold'em event at the 2022 World Series of Poker. Two of those lucrative second-place finishes came in the same tournament in consecutive years, within a day – the $1,100 Main Event of the bestbet Winter Open.
Three of his four career live wins also happened to come in events at bestbet Jacksonville.
After making far and away his biggest final table to date at the property, Boas pointed to a few seemingly minor elements that he believes have made playing at bestbet Jacksonville a consistently enjoyable experience beyond the money he's won.
"One thing that I always say is the lighting in here is great – that's one little thing that is awesome. Some rooms are so dark and depressing. But other than that, the dealers are great. The staff is great. And I know everybody here too, so I feel welcome here. It makes it easy for me to play my best here.
After living in the area for three years, and certainly making the most of that stretch, Boas returned to bestbet Jacksonville and struck gold again. Such was the level of his excitement throughout the day that the thought of food didn't hit him until the chip bags came out at the end of the night.
"I'm trying to figure out how to get myself something to eat because I didn't eat all day," said Boas. "Pretty much, I just didn't want to eat. I was so amped up."
End of Day 1 chip count: 82,500 (89/126)
End of Day 2 chip count: 1,025,000 (9/17)