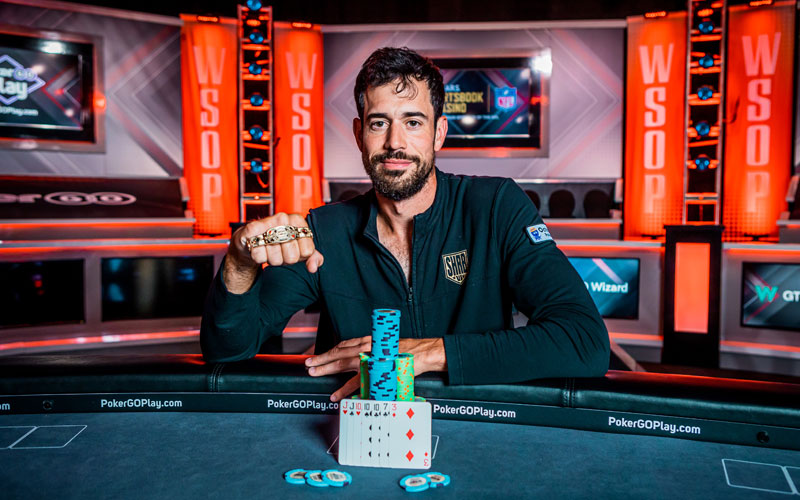 When Nick Schulman burst onto the poker scene in November 2005 by winning the World Poker Tour's Foxwoods World Poker Finals event, he was just a couple of months beyond his 21st birthday. He took home over $2.1 million along with that title, and over the course of the next 18 years, poker has never really stopped being a big part of his life.
It's changed over the years, to be sure. There were high stakes cash games. Schulman eventually stepped into the commentary booth with Ali Nejad, who would become his longtime broadcast partner on a variety of different shows. And the tournament wins kept coming, too.
In the late-night hours, as Sunday became Monday at Horseshoe Las Vegas, Schulman continued to pad his poker résumé by winning the $1,500 Seven Card Stud event for his fourth career World Series of Poker bracelet.
The now-38-year-old poker veteran likely couldn't have imagined where life and the game that he chose at a young age would take him. As he stepped away from the table and collected his thoughts in the moments after his victory, Schulman felt an appreciation for the many twists and turns along the way.
"I've been doing it a long time," said Schulman. "You know how life is, you sort of just arrive where you're at. At this point, I'm just, I'm in here, and four [bracelets] means a lot. It's not lost on me that I've accomplished some things, and I'm still here, so it means a lot."
Schulman sounded reflective, and part of that was indicative of the throwback energy he was putting out at this final table. For much of the time cards were in the air, and again during his post-victory interview, Schulman lightly chomped down on a cigar. It evoked memories and images of poker in decades past, some of which were hanging on the wall of WSOP Main Event champions in that very room, like that of Puggy Pearson.
It was an intentional move, to be sure. The game at hand, Seven Card Stud, has long been replaced by No Limit Hold'em as the game of the day, but Stud, and the weight it carries in Schulman's life in particular, moved him to make the gesture and show his appreciation.
"I just decided to throw it back for the Stud, you know?" Schulman said. "An homage, you know what I mean? Let's play fast, have a cigar dangling, and have some fun."
A player of Schulman's stature and pedigree – $15 million and counting in live tournament earnings – could be forgiven for skipping a $1,500 buy-in event that started on a Friday afternoon. But these days, a chance to play Seven Card Stud without a hi-low split or other variation in the mix is few and far between.
That goes for tournaments, as it's extremely rare to find the game on its own outside of the WSOP. But it also goes for cash games. What was once a staple, especially in casinos on the East Coast of the United States, has virtually disappeared. When asked, Schulman was quick to talk about how much meaning the game of Seven Card Stud has to him personally.
"I love Stud," Schulman said. "I would say it's probably my favorite game. I've always kind of thought it's my best game. I grew up playing it. I grew up going to Atlantic City [and playing it], we had home games in New York. I really got a ton of reps. It's just really cool to win a Stud tournament because there aren't that many of them. The game isn't heavily spread, so even good mixed game players today are a little skittish with it, because they just haven't played that much.
"I've been around some really great stud players in my life. John Hennigan, to me, is the best ever," said Schulman. "Oppy [David Oppenheim], Phil Ivey, [getting] to play with those guys. I played the Larry Flynt game with Larry, rest in peace. I've had a lot of pain at the stud tables, too, but it's been better than bad."
Winning this tournament was a convergence of past and present for Schulman. It was a throwback to his earliest days of learning the game of poker. But it was also a reminder of how far he's come. The support he had on the rail, cheering him on, included his fiancée, Taylor, Nejad, and a few other friends hoping to will him to victory.
"I'm very thankful," said Schulman. "Me and Taylor are family, I love her more than anything. Ali, you know, could take or leave… (laughs) But no, I love Ali, too. It wasn't a big rail all day, but it was cool."
"Nick and I, we used to play against one another online before we ever met in person, which we did back in New York the better part of two decades ago, I want to say, and to then kind of find the chemistry that we have in the booth," said Nejad. "As long as I've been at it, I've never sweated anybody home on the rail. Sometimes that's because I'm in the booth. Sometimes it's because you get a little bit of apathy going. But when I wrapped up tonight, and I realized that he was at this Stud final table – $1,500 or not, I just wanted to be there. A fourth bracelet is rarefied air, and I just need to be a part of it."
Whether or not Schulman needed the emotional support to get him over the line is anyone's guess. But it couldn't have hurt his chances by any means. For a $1,500 event, Schulman faced some stiff competition with five-time WSOP bracelet winner Shaun Deeb and four-time WSOP bracelet winner John Monnette in the mix. When it got down to heads-up play, however, it was ultimately the unheralded Andrew Hasdal, an amateur from Chicago, standing in between Schulman and four WSOP gold bracelets.
With big limits in play, Schulman whittled down Hasdal a few times, only for Hasdal to make some massive hands. Schulman's pair of aces fell to Hasdal's pair of sevens, when Hasdal improved to two-pair. But then came a hand where Schulman almost certainly had the title in his grasp. The chips got all-in on fifth street, with Schulman turning over a made straight, five to nine, against Hasdal's unimproved pair of kings.
Then came a runout that Schulman would later say he'd be thinking about "for the next 70 years."
There was a short break, and Schulman tried to compose himself after having the bracelet all but draped around his wrist, only for the unlikeliest string of cards pulling it back. He still had the chip lead as well.
On the rail, Nejad was feeling a bit nervous himself.
"I was a little bit apprehensive about [being on the rail], because I know how superstitious he can be," said Nejad. "If I show up, and all of a sudden it goes wrong, I might have to atone for this for years to come. But he was a great sport about things, hopefully feeling the energy of people throughout the day."
Within 20 minutes of play resuming, Schulman had secured the victory. His two-pair, jacks and tens, caught a seventh-street ten of its own – making Schulman his own full house on the end to seal victory, in a bit of a cosmic turnaround.
So what comes next, after WSOP bracelet number four? When it happens just a week into the series, talk inevitably turns to number five and number six, thoughts of Player of the Year and other pursuits to come. Schulman will inevitably be a regular presence at the Horseshoe over the next month and a half, but as he sees it, it'll still be business as usual.
"I mean, I'm just gonna put in a fair amount of volume," said Schulman. "Certainly after winning one, I'd love to win two, I mean, who doesn't want to just rattle off bracelets, win Player of the Year and all that? But I feel like some of these buy-ins, there are some great players, and I just want to stay focused on the task at hand."
A big part of that is striking the right balance between the spirit of the 21-year-old kid that still seems to drive Schulman's enthusiasm and the 38-year-old father of a four-and-a-half-year-old daughter he is today. His performance at this final table shows that balance is serving him well, even if it's taken him away from some of the big cash games he used to play in favor of the structured timing that tournaments have to offer.
Schulman's future is wide open in front of him. And whether it's a throwback to games of the past or a throwback to the player that started it all, Schulman's success seems likely to carry on well into his future.