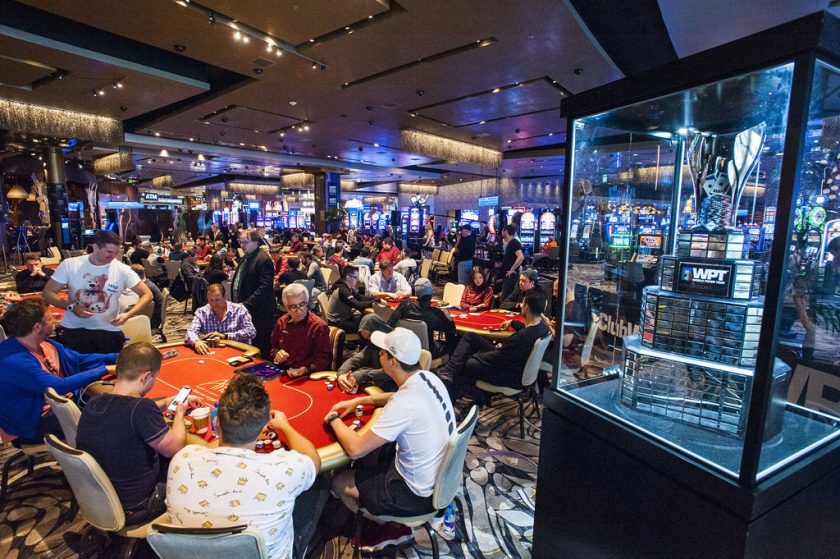 Season XVI of the World Poker Tour is coming to an end, but it's going out in style. The WPT Tournament of Champions kicked off Thursday with 80 members of the WPT Champions Club taking part in the action. The prize pool is set at $1.365 million, which includes $150,000 in cash added by the WPT ($50,000 of which goes to the winner alone). The final 10 places pay, and up top for the winner is $463,375, which also includes a seat to the Season XVII WPT Tournament of Champions.
In addition to the $150,000 in cash that has been added to the prize pool by the WPT, the winner of the Season XVI WPT Tournament of Champions will take home a luxurious Hublot Big Bang Unico Titanium Ceramic watch, a $50,000 membership to JetSmarter, and the gold WPT Tournament of Champions trophy.
On top of the chip counts after Day 1 is Season XVI L.A. Poker Classic champion Dennis Blieden (pictured below), who holds a commanding chip lead on the remaining field. Of the record 80 competitors, 29 remain.
Blieden vaulted up the chip counts during Level 4 when he eliminated Season IX WPT Player of the Year Andy Frankenberger. On a flop of

, a series of bets and raises culminated with Frankenberger all in and at risk holding the


against Blieden's


. Frankenberger failed to catch up, and Blieden was off and running. Later that level, Blieden picked up pocket aces and took a lot of chips off of Mike Del Vecchio, who held pocket kings.
After holding steady during Level 5 and Level 6, Blieden fell off a bit after dinner. However, things changed in a big way for him when two-time WPT champion Aaron Mermelstein moved to his table. On the final hand of the night, Blieden held top set with the

on a


board. Mermelstein, who had been the chip leader briefly about an hour earlier, flopped an inferior set with the

. A flurry of action followed, and Mermelstein wasn't able to find a miracle to survive. With that pot, Blieden bagged a commanding chip lead with 593,000, almost twice as much as his nearest competitor.
"I'm running pretty f***ing good," Blieden said after Day 1. "This is the first tournament I've played since LAPC, so I feel like I've picked up right where I've left off."
As an unknown to most of his fellow members of the WPT Champions Club, Blieden offered an honest assessment of how he feels he is viewed by his opponents.
"They think I'm terrible, so I'm probably getting calls that most people wouldn't," Blieden said. "I got a lot of coolers and it seemed like every time I bluffed, they folded. And every time I got called, I had it. Just one of those days."
Other players left in the field were J.C. Tran (305,000), Marvin Rettenmaier (234,500), Erik Seidel (223,000), Asher Conniff (187,500),  Justin Young (176,000), and Darren Elias (170,000). Elias finished Day 1 of the WPT Tournament of Champions fresh off his record-setting win in the WPT Bobby Baldwin Classic, where he won his fourth World Poker Tour title and now has the most WPT titles in history.
Two-time WPT champion Art Papazyan, who locked up Hublot WPT Player of the Year honors this week, bagged a stack of 166,500.
Day 2 begins at 12 p.m. local time on Friday, and play will conclude once the official WPT final table of six players is set.
Don't forget, the official final table of the Season XVI WPT Tournament of Champions will be filmed for television at the brand new state-of-the-art Esports Arena Las Vegas on Saturday, May 26. If you're in the area, come down and experience the World Poker Tour in the $20 million, 30,000-square-foot Esports Arena starting at 1 p.m. PT.
Photography by Joe Giron / PokerPhotoArchive.com
---
If you're interested in becoming a WPT champion, you can play for your chance on ClubWPT.com. ClubWPT is where eligible VIP members can play for more than $100,000 in cash and prizes each month, including seats to WPT events. No purchase is necessary for the ClubWPT sweepstakes and the service is void in states where prohibited. See terms and conditions at ClubWPT.com.