By Sean Chaffin
Pay a few bills or a shot at WPT glory? That's the dilemma Keith Kozar faced in 2011 as the Legends of Poker approached at the Bicycle Casino. As a huge poker fan, his job as tour statistician meant the world to him. He also dreamed of adding his name to the Champions Cup. Even a nice cash would bring a smile to his face.
Keith Kozar at the WPT Legends of Poker 
After playing a few satellites, Kozar scored a $3,700 entry. But living in Los Angeles is expensive and this poker player had a bill or two to take care of. His car needed some maintenance as well. Practicality and necessity won out, sell the seat and use some of that cash. However, WPT colleagues knew it was his dream and quickly launched a plan to help.
"We pulled together a thousand bucks in the office so fast," WPT Producer Adam Strohl says. "He basically sold out 33 percent of himself in 20 minutes. Everybody just wanted a piece.
"They all wanted to share in his success, whether he won or lost, because they knew how much it meant to him. That's how much people cared about him because that's the kind of guy he was. They just wanted to support him."
Those are the kinds of stories and sentiments that stick out in the minds of those who knew Kozar. The longtime WPT employee passed away from a heart attack on Tuesday at age 57. His loss touched many and the conclusion of that story from the Legends of Poker shows what he meant to so many.
After finishing 23rd for $14,135, Kozar used some of his winnings toward a new car. But co-workers remember the joy on his face while handing them their own winnings.
"He was so proud to pay everyone out," Strohl says. "It was the greatest sweat in the office. Everyone was constantly refreshing the live updates. And people didn't care, they just wanted him to be happy because everyone loved him."
WPT Statistician and So Much More
Producing an episode of the World Poker Tour is a huge effort. From editors and production staff, making a poker tournament come alive on television involves hundreds of hours and hard work. But for Kozar, the environment felt right at home – documenting hands, logging chip counts, and talking with players.


Kozar breaking down hands at WPT Alpha8 
He first began working for the tour in 2009, logging footage to be edited for production. Commentators Vince Van Patten, Tony Dunst, and Mike Sexton relied on much of his work to make the show a well-oiled machine. Those statistics and hand histories are also used for on-screen graphics. While many might wilt under the pressure of so many numbers and percentages, Kozar thrived in the role.
"He did a job that was extremely tedious, laborious, and frustrating, just because he's taking all of the final table stats and then inputting them into a database system that was pretty old and ancient, but we still kept it around forever," Strohl says. "With his knowledge of poker, it was a perfect match for him and not many people could do that job. He was one of the few that could do it.
"His passion and knowledge of poker and all of the players helped him in that ability. He knew everybody. He knew pros that we didn't know, that he could just pick out of the crowd."
Strohl credits Kozar with improvements to the show including the tour's database. The system has become a backbone for the show, he says, and used in some format throughout production. In recent years, Kozar's role expanded to helping with end-of-day interviews to use as part of the show. A tenacious mindset often helped.
"He would have no problem going up to Phil Ivey if someone else didn't want to go up and talk to him," Strohl says. "Not only would he go up to Phil Ivey and ask for an interview, but he wouldn't let Phil go until he got that interview. And on top of that, he wouldn't let the guy go until he got the answer that he knew was right for the show."
A Phil Ivey interview coordinate by Kozar at the WPT L.A. Poker Classic
Quality control was another responsibility, making sure all hands and statistical graphics were correct before being finalized for broadcast. As Strohl notes, Kozar wore many hats, literally and figuratively – usually with the WPT logo.
"He was probably the one integral part that touched every other department," Strohl says. "Without him, we'd pretty much be lost."
Keith Kozar with Mike Sexton and WPT CEO Adam Pliska 
Drag Racing to Wedding
A drag race on a first date might be out of the norm for many. But for Stephanie Kozar, that meetup in 2011 remains a special memory. The couple shared a mutual interest in the high-energy competitions and first met on a Facebook page devoted to drag racing.
Stephanie posted a photo of herself with legend driver John Force and Kozar was impressed. After some online chatting, a high-speed date followed that included plenty of supercharged, fuel-injected engines.
"We went on our first date at the drag races and we were inseparable since that day," Stephanie says. "Both of us knew halfway through the date that we wanted to be together for the rest of our lives. I don't know how crazy that sounds, but that's exactly what happened."
Three years later, the pair walked down the aisle. Kozar had been married briefly a couple of times before, but his relationship with Stephanie finally seemed like the right fit. 
Kozar and wife Stephanie (Photo Credit: Keith Kozar's Facebook Page)
Along with Stephanie, Kozar is survived by three stepchildren who had become an important part of his life. While she wishes they'd had more time together, Stephanie's grateful they found each other and cherished their time together. His kindness and warmth remain with her. 
"Keith was just a warm-hearted soul," Stephanie says. "He wouldn't hurt anybody. He had a helping hand for anyone who walked through the door. He didn't care what it was. He'd drop whatever he was doing and run to aid anyone who needed help."
A Passion for Poker 
Beyond that big score at the Bike, there were other successes at the poker table for this recreational player. That included cashes in WPTDeepStacks and WPT500 events, and his career live tournament earnings topped $70,000.
"Keith loved poker," Vice President of WPT Studios Johnny McMahon says. "I felt like he was poker. The production office was always excited for him when he played, we would cheer him on for sure. Some of us would throw in a few dollars and back him. We loved him very much."
Kozar simply loved being around the game. Whether it was a big event at the Gardens or heading off to Las Vegas, being surrounded by poker players always remained a thrill.
Kozar at the WPT Gardens Poker Festival (Photo Credit: Joe Giron)
"He loved the players and the environment," McMahon says. "He knew a lot of the players, could reference past WPT tournaments, and who was at the tables. He also loved poker swag. I don't think I ever saw him without having some sort of casino or WPT branding on him."
Many not only remember Kozar's poker tales, but he always seemed to have an interesting story at the ready. And while bad beat stories may annoy many, hearing about that unlucky turn or river card just didn't seem so bothersome from Kozar.
"He would make a point to come say hello before he played an event, and then if it didn't work out he would come and tell me his bad beats – I never minded," WPT executive tour director Matt Savage remembers. "Keith definitely would have loved to have become a poker pro. He really loved poker and poker players. Many WPT players knew Keith and he would share stories and discuss hands with them."
Kozar with WPT Champions Will Failla (L) and Dwyte Pilgrim (R)
After growing up in Duluth, Minnesota, Kozar moved during high school with his family to Charlotte, North Carolina. He spent much of his life around poker and his card-playing passion never faded. Despite an early drug problem, Kozar had been clean for 40 years thanks to Narcotics Anonymous. That's where he met longtime friend Morris Tevah and the two men soon became poker buddies. Tevah uses words like loving, caring, generous, and funny to describe his friend.
"LIke brothers, we had our ups and downs over the course of 25 years," Tevah says, "But the good times and memories far outweigh the bad."
A Friend to Everyone
When looking back on the time they spent with Kozar, friends and family remember a man who was always there for others, quick with a smile, and could have a conversation with anyone. 
WPT supervising producer Mandy Glogow has known Kozar for 20 years. After years of playing poker together, she believed he'd be perfect to join the team when a job came open. Co-workers welcomed his outgoing personality and friendly demeanor.
"He was like the mayor of the office in a way," she says. "Any time there was a big lottery, we'd pool money together and he'd be the one to run it and collect money from people. He loved office functions and always wanted to get everybody together. He had a big heart and made a personal connection with pretty much everyone in the office."
When not at a drag race or final table, hitting the road on his Indian motorcycle was a big part of Kozar's life, his long hair trailing behind. Those long locks signaled another interest – rock 'n' roll and more specifically, heavy metal. Kozar loved music and enjoyed checking out live shows with his wife.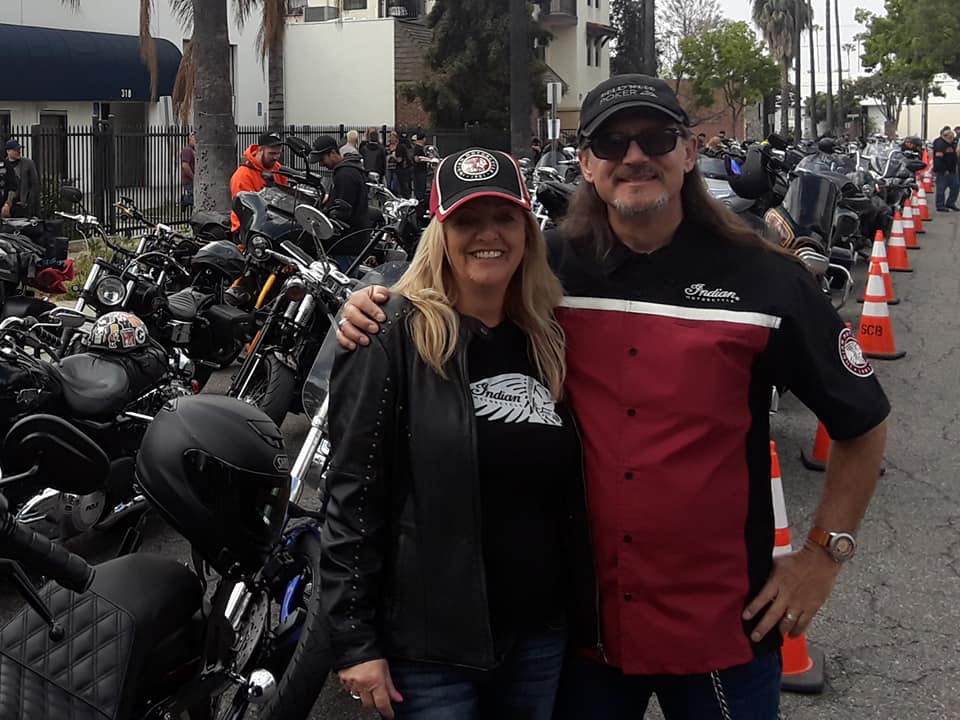 Keith and Stephanie (Photo Credit: Keith Kozar's Facebook Page)WPT photographer Joe Giron shared that passion. Giron worked for years snapping pictures of some of the genre's heavy hitters and looks back fondly on those times with Kozar talking music.
"My interactions with Keith, besides professional ones with television production, were mostly about music and especially the Dallas band Pantera," Giron says. "Keith was a huge music fan and knew I was the band's photographer. He bought my book of the band so I could sign it for him. He was a big fan of Dimebag Darrell, Pantera's guitarist, and was always asking me about him. Keith was a gentle soul and it was great seeing him at TV events."
Others could recount similar stories – Kozar just seemed able to speak with anyone. With the news of his death, players and colleagues shared their love on social media. 
This was Keith .. great guy! And a very talented man …my condolences to his family ..rest in peace brother pic.twitter.com/jLH2LH7azf

— Vince Van Patten (@VinceVanP_WPT) October 21, 2020
Current social restrictions due to COVID-19 make gathering to reminisce about their friend and colleague difficult. His passing just seemed so sudden. Keith Kozar dreamed of success at the table, but left a much bigger impact than simple cards and chips. Members of the WPT family know this first hand.
"Keith loved the WPT and the people who worked at the WPT," McMahon says. "We will miss him dearly."
Sean Chaffin is a freelance writer in Crandall, Texas, and his work appears in numerous websites and publications. Follow him on Twitter @PokerTraditions.