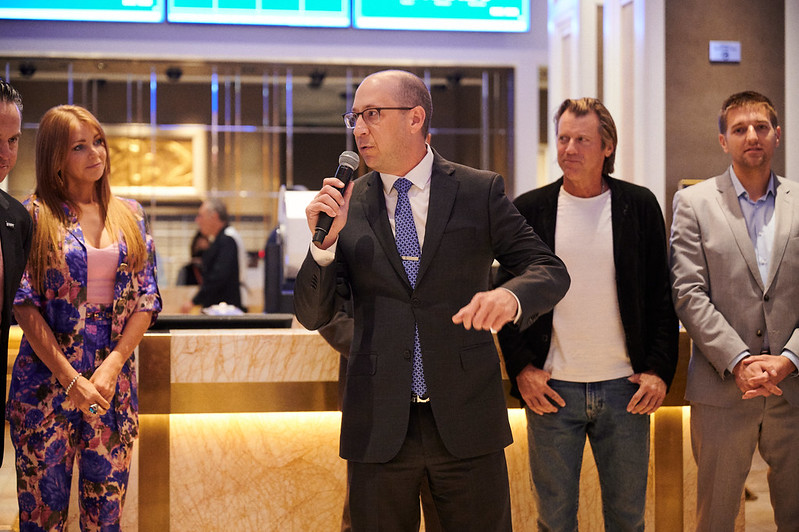 Over the last few years, Wynn Las Vegas has become one of cornerstones of the poker world, drawing dizzying tournament fields and packing out cash games year-round.
The inaugural WPT World Championship crushed guarantees and expectations throughout the series back in December. And throughout this summer, even as the World Series of Poker drew record-breaking fields, the Wynn Summer Classic continued to exceed guarantees throughout June and July. The series culminates with a pair of big buy-in tournaments – the $10,500 WPT Everyone for One Drop, and the $111,000 WPT Alpha8 for One Drop.
Expectations are, predictably, high. A big reason for that, and for the success Wynn Las Vegas has experienced of late, is a team led by Executive Director of Poker Operations Ryan Beauregard and Tournament Director Ray Pulford. Ahead of Sunday's kickoff to WPT Everyone for One Drop, we sat down with Ray and Ryan to talk about one of the innovations they've implemented as part of their successful strategy – the Milestone Satellite, which rewards players with a seat the moment they hit a pre-set number of chips – as well as their expectations for the upcoming events and the return of the WPT World Championship in December.
WPT: The milestone satellite, which you guys have implemented, has obviously become a pretty successful part of each series you run. Can you talk a little bit about how the idea came together and became a part of the schedule?
PULFORD:  The main reason we transitioned to a milestone format was because traditional satellites became a problem with players stalling and abusing the system. It got to the point where somebody had to be forced all in by the big blind, which unnecessarily added time to the event and ruined the experience. We were looking for a way to keep people playing poker, forcing them to accumulate chips. And this was a very happy medium where if you win the chips, you earn the seat and you're done. Players are excited that they don't have to sit around for nine hours when they can be run up a big stack in three hours and be done.
WPT: When you first started thinking about implementing the Milestone Satellite, what was the timeline and how long did it take, from considering the idea to making it happen?
BEAUREGARD: We had a little bit of a head start in that there were some other venues on the other side of the world that were trying something similar. Matt Savage had tried something with a reverse shootout. So we knew that the wheels were turning in the industry as far as, "How do we fix a satellite system that's broken?" And as those ideas kind of picked up steam, we started thinking about it – I would say we probably chatted about it for just a short period of time, maybe a month or so. Then we were able to figure it out on paper, and from there, we decided to give it a shot.
We hosted an employee tournament with this format, I think it was $100, and we got 60 or 70 players. We learned from there, but we had a proof of concept that it worked and everyone loved it. We made a few tweaks, and that's when we decided to launch it in our next series.
WPT: Now, when you have a new tournament format like that, do you have to go through any additional gaming approval? Or is it close enough to a Survivor or other tournament format where you don't need additional clearance?
BEAUREGARD: We're fortunate here in Las Vegas, specifically, that the gaming control board trusts all the operators to create games and rules, and/or terms and conditions, so that as long as there's a comprehensive set of terms in case something goes wrong, if there is any sort of dispute we have the rules in place to resolve it. As long as those are clear and available, we are free to try new things.
WPT: The turnouts speak for themselves, in terms of how they're working out. How have the player reactions been?
PULFORD: We pride ourselves in taking player feedback and making adjustments. Everything so far, when it comes to Milestone Satellites specifically, has been positive. At first, there were players that only knew the traditional way that were averse to the change. But after a very short period of running them, most changed their minds. The only time we hear a few grumbles is towards the end, when chips have been taken out of play and stacks get a little shorter, and they say, "It gets a little gamble-y at the end." But they had the opportunity to earn those chips along the way to reach the Milestone.
BEAUREGARD: I would just add that the beautiful part about that format, as chips come out of play and players do get a little bit short, is that it's the goal of the entire format, right? To continue to force players to play to survive, instead of just stalling to outlast the rest of the field. When players are complaining that it gets a little bit short, or they're complaining that it doesn't suit their style, that's basically great feedback that tells us that the entire idea is working.
PULFORD: In the old format, I saw a player fold aces preflop because it was the appropriate move. And that's the moment that confirmed to me that the old format was broken.
WPT: There are going to be five of these Milestone Satellites, starting Friday, leading up to the $10,500 buy-in event that kicks off on Sunday. What are your expectations for those satellites, in terms of players, and how do you think the Everyone for One Drop tournament will fare in general?
BEAUREGARD: Yeah, so we're a couple days out from kicking off, and it wouldn't surprise me if we satellite in 150 players, give or take, through the milestone format. If you talked to us four or five months ago, I think we would have told you that we expected 1,500, maybe 1,600 players. And I can tell you right now that we're preparing overflow for Day 2, just based on the turnouts that we've seen in the summer. We've taken measures to add more table capacity to make sure we can accommodate the field size for Day 2, should it get up to that 2,600 to 2,800 player number, which at this point feels like a real possibility.
WPT: Obviously your focus at the moment is wrapping up the Wynn Summer Classic, and there's a lot to handle there over the next 10 days. But it feels like we can't not talk about the success of the WPT World Championship at Wynn Las Vegas last year. Seven months removed from that inaugural event, how do you feel about how it played out, and what are your expectations for its return in December?
PULFORD: We were surprised by the turnout, to be honest. As much as we planned and prepared, we were shocked and awed, and we think that the second year is going to be even bigger. We are in the process of planning to make sure it runs smoothly, and while we had some growing pains, we're happy that from the positive feedback that we received, it didn't seem to affect the player experience.
BEAUREGARD: I think that we underestimated the brand value of the partnership between Wynn and the WPT. We had been chatting with WPT for a dozen years about hosting an event, and this was finally the right time to do it. I think the players were waiting for it. We're preparing this year with a few more ballrooms, 70 to 80 additional tables. The field sizes for the WPT Prime Championship itself are going to be 7, 8, maybe 10,000 players, right? Our goal is to make sure that we offer as much as we can we try to tick every box and give everybody an experience that's even a little bit better than last year. If we can manage to do that each year, then the future is very bright for the WPT World Championship here at Wynn.