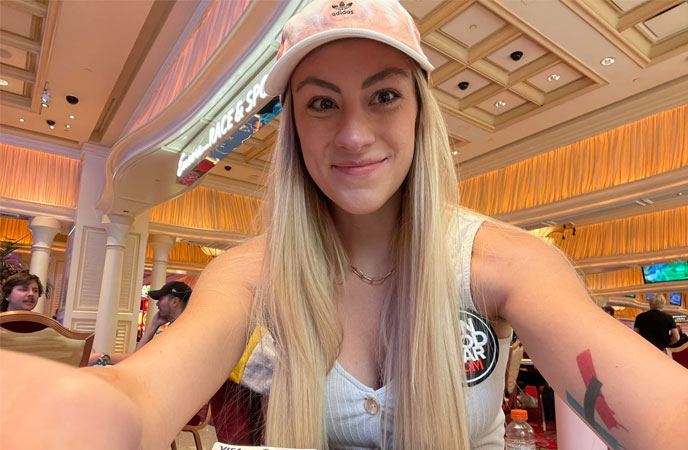 The most successful photojournalists are the ones who develop a habit of putting themselves in the right place at exactly the right time. Last Monday night, Hayley Hochstetler, who has built a reputation as one of the best photographers in the poker world, found herself in exactly such a scenario and ended up $13,000 richer because of it.
And she didn't snap a single photo. 
Hochstetler, who also serves as the Vice President of the RunGood Poker Series, was in Southern California two weeks ago when a photoshoot she had been booked for was canceled. Around the same time that her calendar opened up, one of the organizers of Max Pain Monday on the Hustler Casino Live stream, 'Sashimi Poker,' tweeted that she was considering running a Ladies night edition of the show. One of Hochstetler's friends replied and suggested the 27-year-old Hochstetler would be a good fit for the lineup and that's when discussions began about getting her on the show.
"I can't remember who messaged who first, but there was a correspondence there and I was basically like, 'Yeah, I'm free. Let's make it happen' and they were like, 'Yeah, okay. Let's go.'," said Hochstetler. 
The ladies night lineup never materialized, but an invitation to play in the regularly scheduled Max Pain Monday game still came through and Hochstetler was happy to have the opportunity to play on a livestream.
"I would've played either way. I didn't find out until after the fact, but it was fine," said Hochstetler. "I'm a big last minute decision making type of person. If something works out and it looks like fun, I'll do it."
The Max Pain game started out as a $10/$20 No Limit Hold'em with a $20 big blind ante, which is higher stakes than anything Hochstetler has ever played. Hochstetler says she doesn't normally get nervous, but she wasn't feeling 100% in the days leading up to the game and, on top of that, still felt some nerves before she took her seat.
"I was actually kind of sick on the show. I've been dealing with some random health issues. So it had been forcing me not to eat," said Hochstetler. "So, in addition to a little bit of nerves and not being able to eat the whole day, I was a little bit physically shaky."
Worried that the other players would notice her nerves, Hochstetler bluffed for the first time that night and told  her tablemates she was just cold. The butterflies settled quickly, though, thanks to a cooler that Hochstetler was on the right side of. 
Just three hands in, 'Sashimi' raised to $40 with [qs][9d] from middle position before Daniel 'Tafokints' Lee three-bet to $150 with [kd][kh]. Holding [ac][as], Hochstetler raised to $400 forcing 'Sashimi' to fold. Lee made it $1,300 and after looking at his stack, Hochstetler moved all-in. Lee called and then watched the board run out [qd][7s][3c][qh][ah]. Hochstetler added $4,000 to her stack and got a little bit more comfortable. Over the next five hours, Hochstetler added nearly $5,000 more to her stack and walked away with $13,690 in profit.
Banking five figures is a good night for anybody, but walking into a game knowing absolutely nothing about what she was going to be up against makes it more impressive. Along with the aforementioned 'Sashimi' and Lee, the game included Hustler Casino Live and Max Pain Monday regulars Billy 'DGAF' McNulty, Margaux Brooke, David Naimark, 'EFAN', and 'Sia the Bot'. 
"I honestly didn't even have time to look anybody up, so I wouldn't have been able to tell you anything about any of the players prior to playing," said Hochstetler. "I was kind of expecting it to be a little bit more straddle heavy like double, triple, quadruple straddle and that wasn't the case, which is good for me because I wasn't prepared to open to $1,000. There was a lot of action but it wasn't as insanely out of line as I thought it was going to be."
It was a tremendous start to a long stretch Hochstetler will be spending on the road. Though she now calls Tulsa, OK home, Hochstetler's work schedule will be on the road for the rest of 2022, which means she'll miss sitting down for Thanksgiving dinner with her parents for the first time.
"I am very busy during this month of November and December and I'm just staying on the West Coast," said Hochstetler. "I'm actually having Thanksgiving with [Joe Stapleton] and then we're going up to the RunGood Season Finale at Thunder Valley."
Along with her work with RunGood and the occasional cash game windfall, Hochstetler also recently secured her dealer's license at the Horseshoe casino in Council Bluffs, Iowa. She picks up an occasional shift or two when she's in town, but the experience she's gaining from an operational perspective is meant to help her in role with RunGood.
"I'm getting asked more and more operational questions. And I feel like the reason why I took the dealing job is I want to be able to answer those questions confidently when I get asked them. And maybe this is going to help. It's going to give me a different perspective on the game, as well," said Hochstetler.
A professional poker player would be quite happy to stand up from the highest stakes cash game they've ever played having won nearly three buy-ins back, and a result such as Hochstetler's at Hustler live might prompt a perspective shift in its own right. But Hochstetler isn't a professional poker player. She once considered making her living sitting at the felt, but knows her future in the game is on the operations side.
"I go back and forth with myself on this all the time and especially more so a couple years ago than I do now. When I ask myself the question, do I want to be a player or do I want to be in the industry? And I think I've made up my mind where I would rather be in the industry than be a player because it's so high stress to be a professional poker player," said Hochstetler. "I'm never going to be a professional poker player, [but] it's fun to play and stuff and it's really awesome to have opportunities like this."